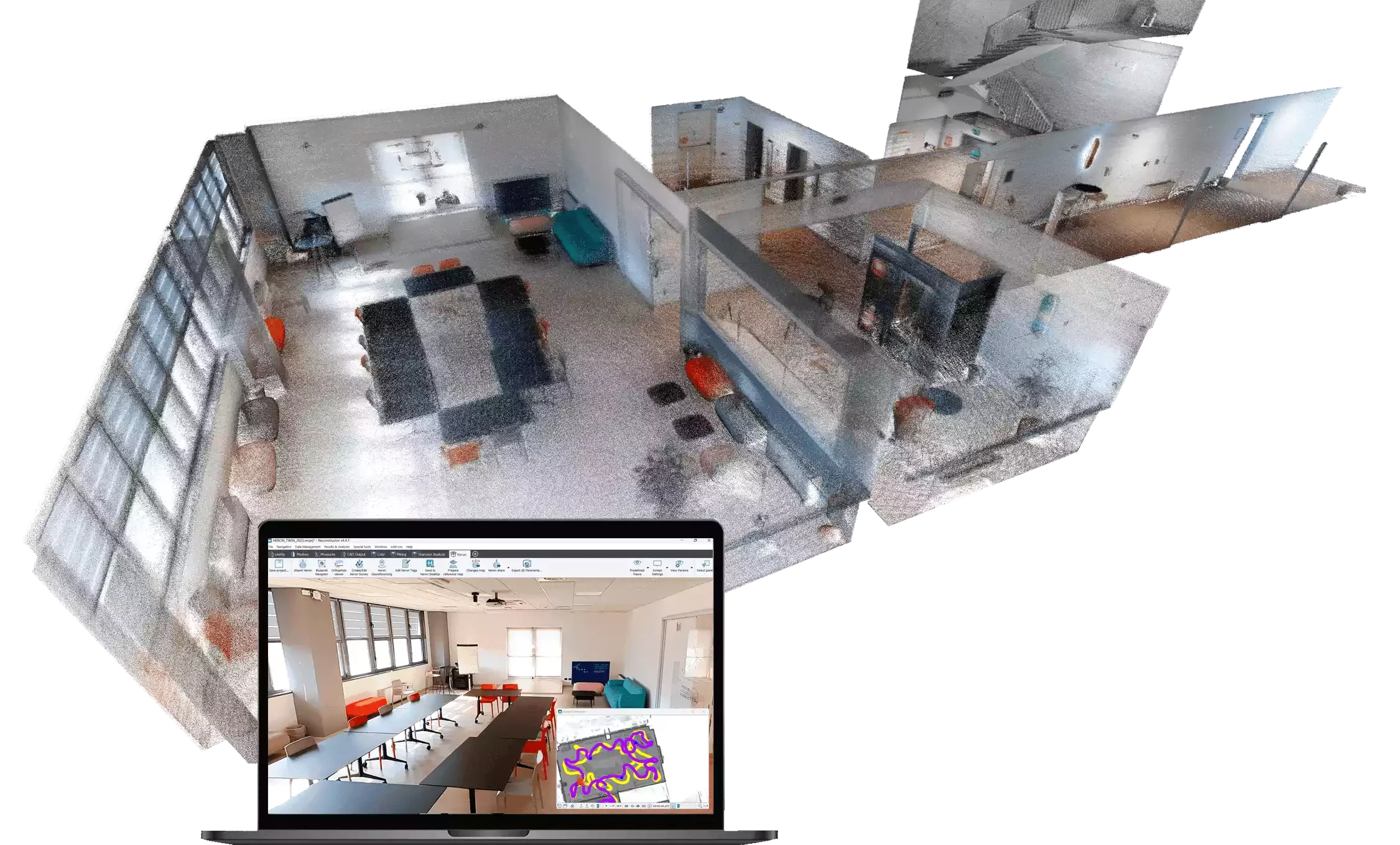 HERON SOFTWARE
Patented algorithms for high-level results
Software equipment included with the instrument
Local installation on proprietary device
No data processing limits
Access to all processing parameters
Presets for specific workflows
Automatic mode for inexperienced users
• Capture Lidar data and control points
• Acquire RGB 8K panorama images
• Record streaming video
• Raw data import
• Trajectory building
• Point cloud model creation
• Georeferencing
• Point cloud editing
• Main output extraction
• Direct export
• Access to AutoCAD environments
• Cintoo Cloud
• 3DMapping.Cloud
• FARO WebShare
• AEC (e.g. EdgeWise, Verity)
• MINING (e.g. Datamine, Micromine, Surpac, Vulcan)
• X-ray maps sharing
• Easy measurement
• FREE tool
ON-PREMISE SOFTWARE INCLUDED
UNLIMITED AND BOUNDLESS PROCESSING
FULL CONTROL OF SLAM PARAMETERS
PRESETS AND AUTOMATIC MODE
COMPATIBILITY WITH THIRD-PARTY SOFTWARE
COMPLETE SOLUTION
When you purchase a HERON system, the software packages are included, which allows you to have everything you need in hand to be up and running right away.
HERON software offers full processing autonomy and handles raw data import, trajectory construction, 3D model generation, advanced point cloud editing and free data-sharing tools.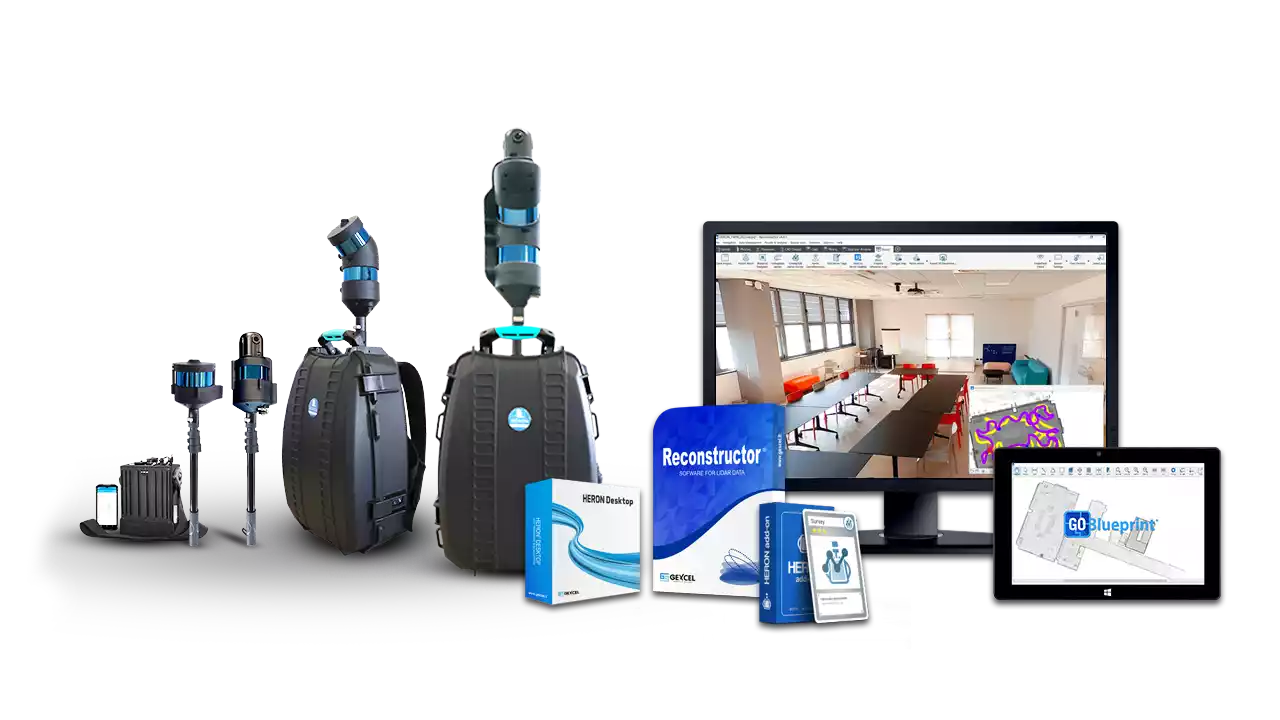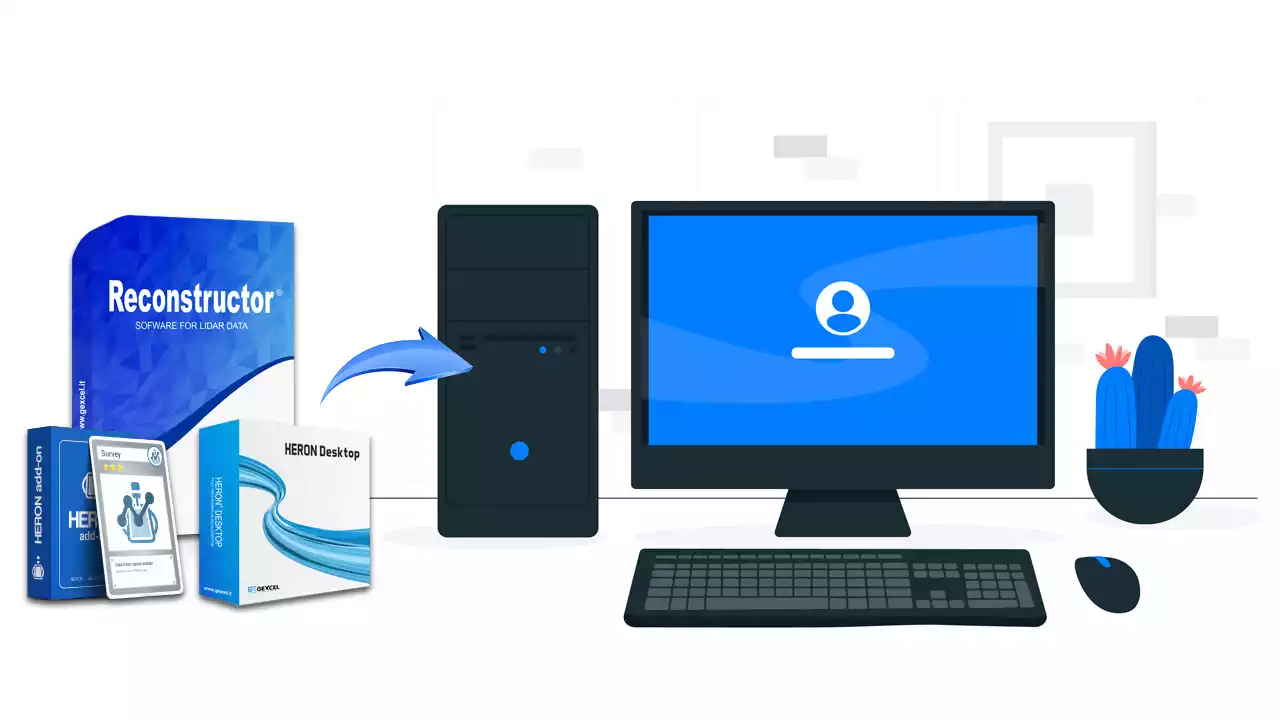 LOCAL INSTALLATION
HERON software packages are installed locally and data are managed by users on their own workstations.
No remote processing or web-based data transfer is required.
No constraints or limitations in data processing.
High level of respect for data privacy.
OPTIMIZED TRAJECTORY
What makes the difference in a SLAM system is the software algorithm that generates the trajectory on which the goodness of the 3D model depends. HERON offers a powerful processing system based on advanced and patented algorithms for excellent results in trajectory optimization even in surveys of complicated environments.
Non-mandatory loop closure.
Customization of SLAM parameters.
GNSS coordinates for georeferencing.
Union/division of survey trajectories.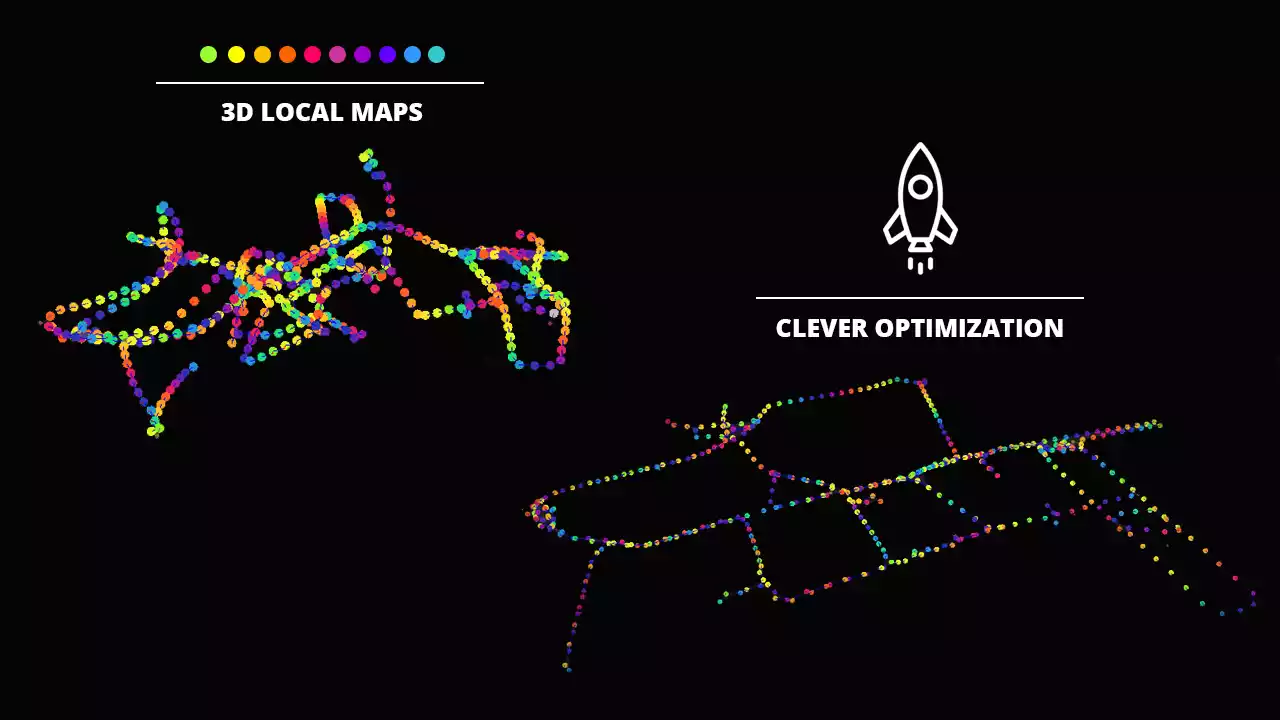 CONTROL POINTS
HERON is able to anchor its 3D model to constraints so as to increase its overall accuracy. These constraints can be GNSS coordinates, ground points, physical/natural points but also georeferenced scans (TLS, UAV, Mobile). With this approach, you can also geo-reference the model and keep an eye on drift effects that may occur, for example, in long straight paths.
CONTROL POINTS acquired with HERON during the survey also on ceilings, sloping walls, rock walls.
KNOWN POINTS selected on the 3D point cloud. They can be either physical elements or targets placed along the path.
COORDINATES OF KNOWN POINTS extracted from a 2D floor plan or digital model (DWG) or BIM model.
GEOREFERENCED SCANS of the same site aligned with the HERON scan. These can be static, drone, or mobile system scans.
PRESETS
To speed up and improve the quality of data, HERON Desktop software offers presets defined according to the type of survey performed, especially difficult environments such as outdoor sites, tunnels, staircases and small rooms.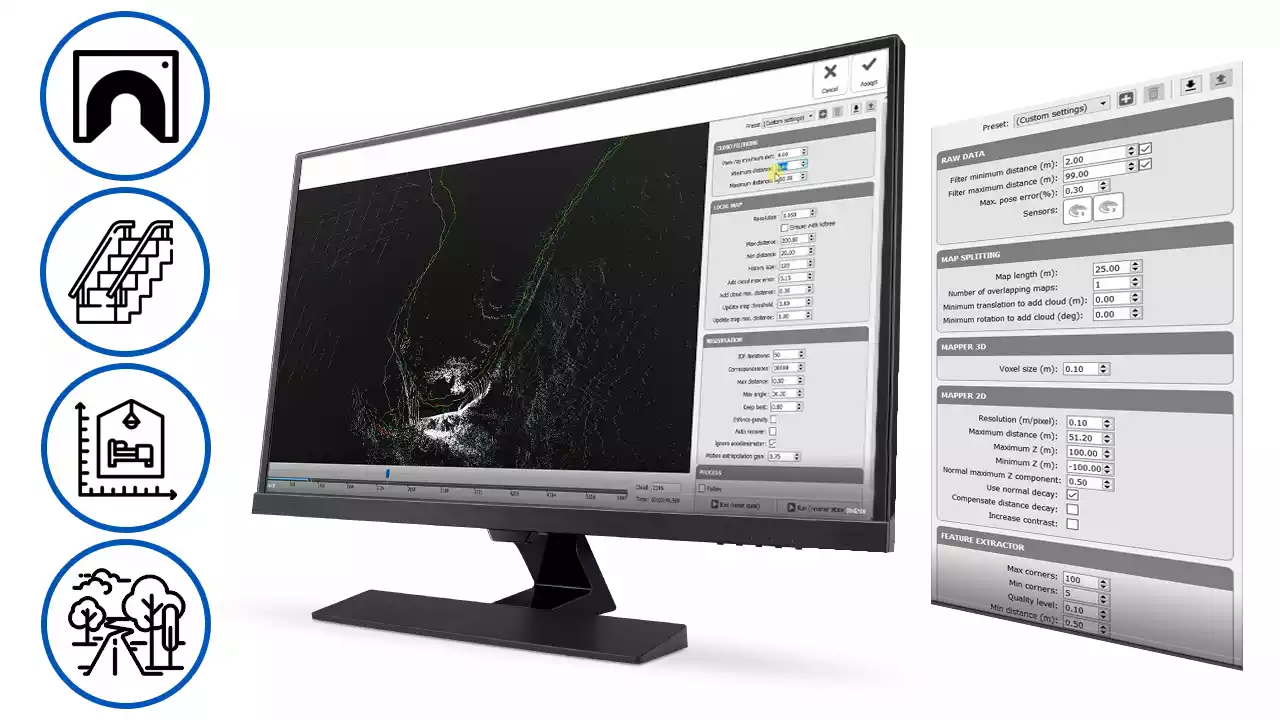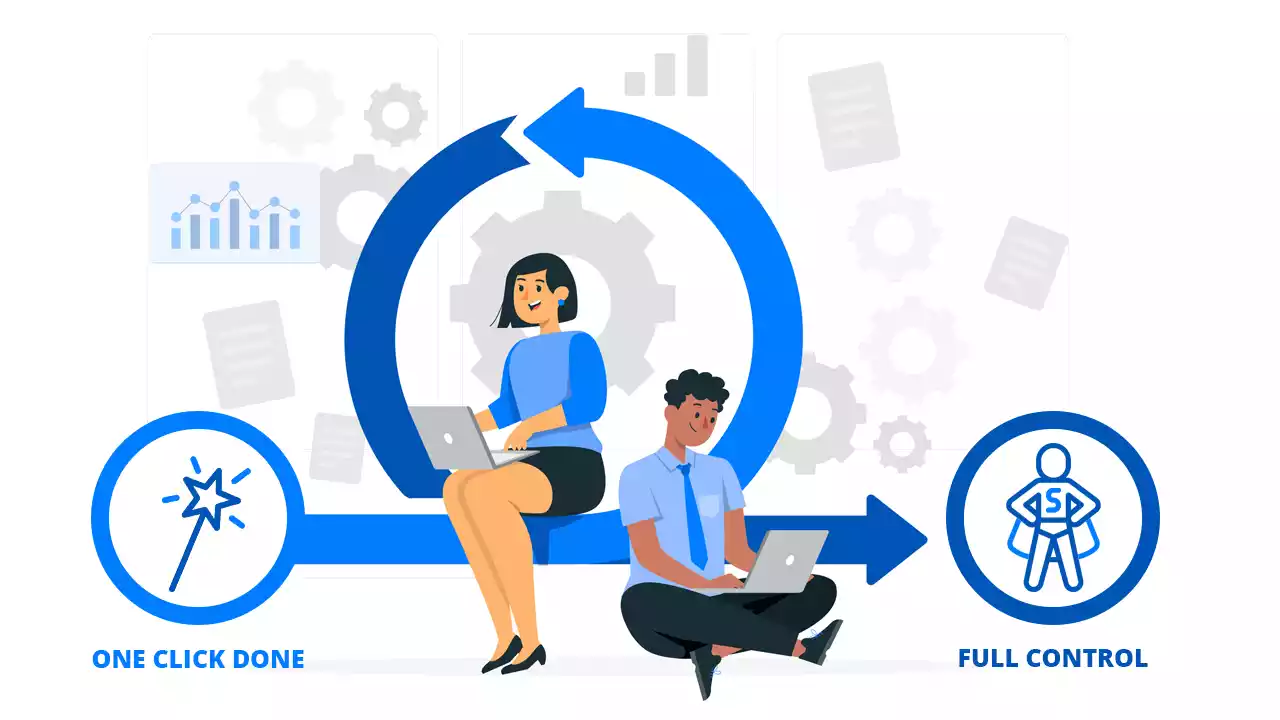 AUTOMATIC OR ADVANCED PROCESSING
Opt for the fully automatic procedure and get the entire process in one click, or choose the advanced mode to customize parameters and control the calibration of the SLAM algorithm. Changing these parameters allows you to solve the most complex processing inconveniences that can occur in data processing.
AUTOMATIC DELETION OF MOVING ITEMS
Use the automatic filtering of moving objects (people, vehicles) to eliminate these items from the point cloud model.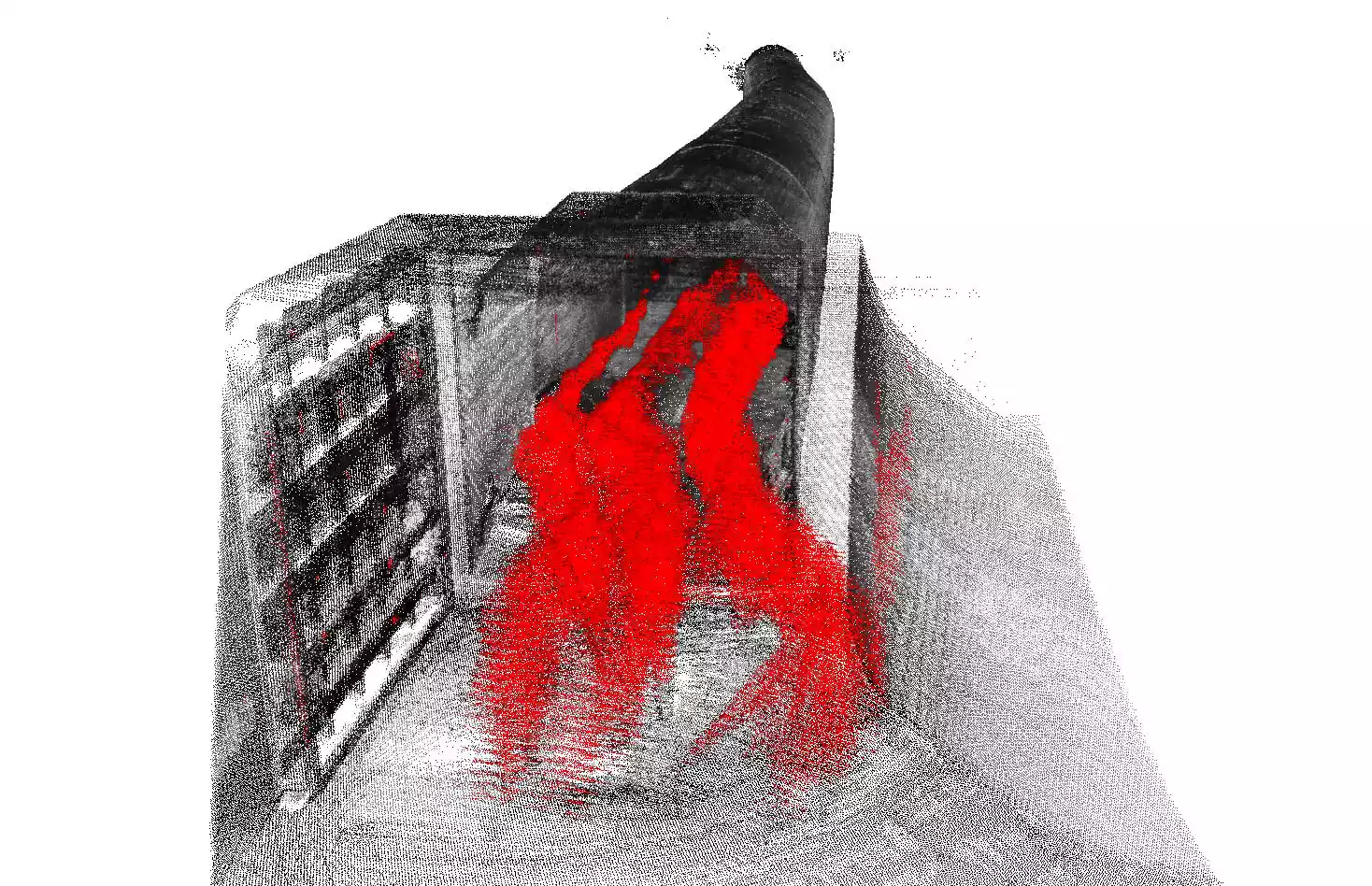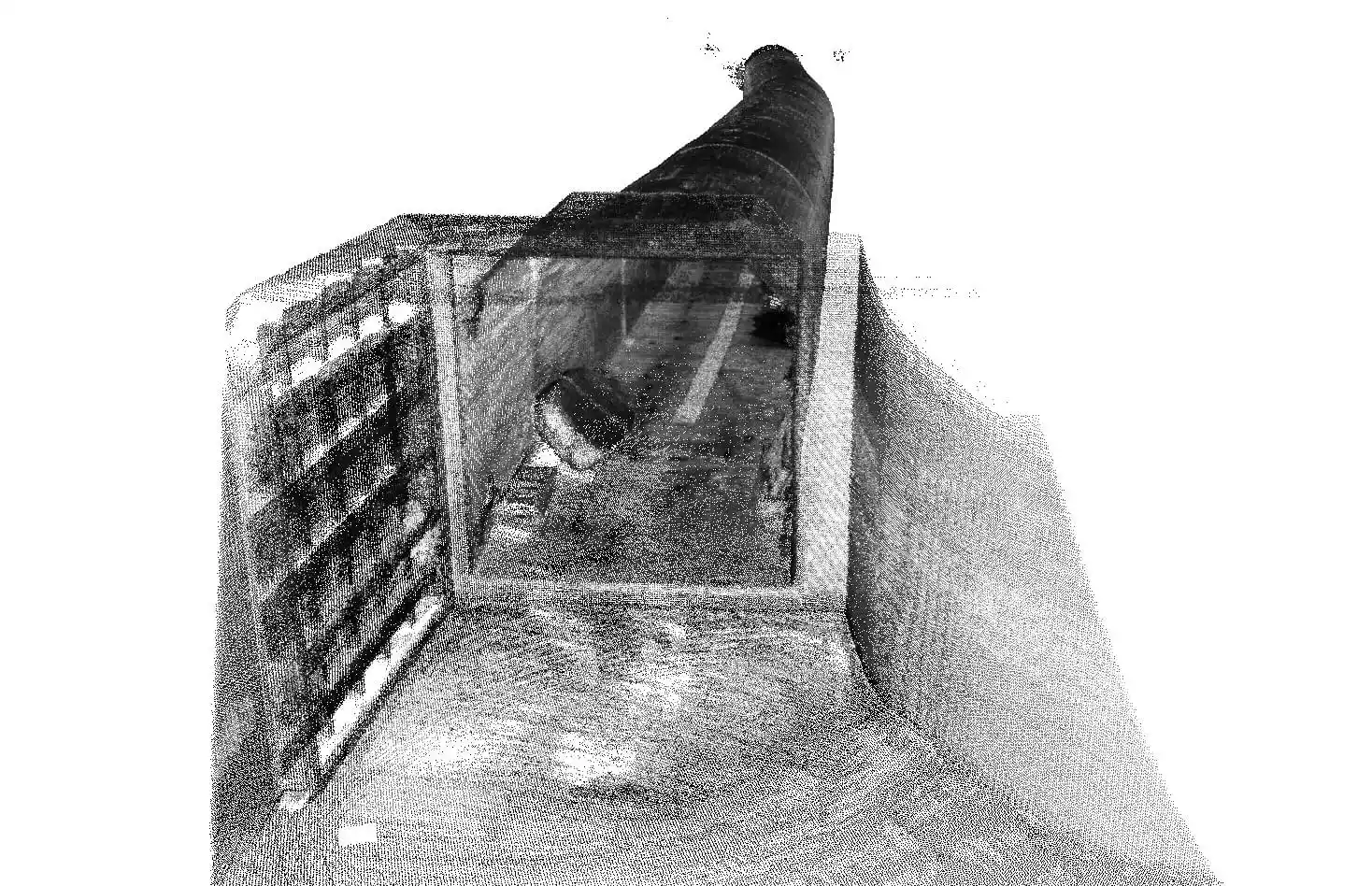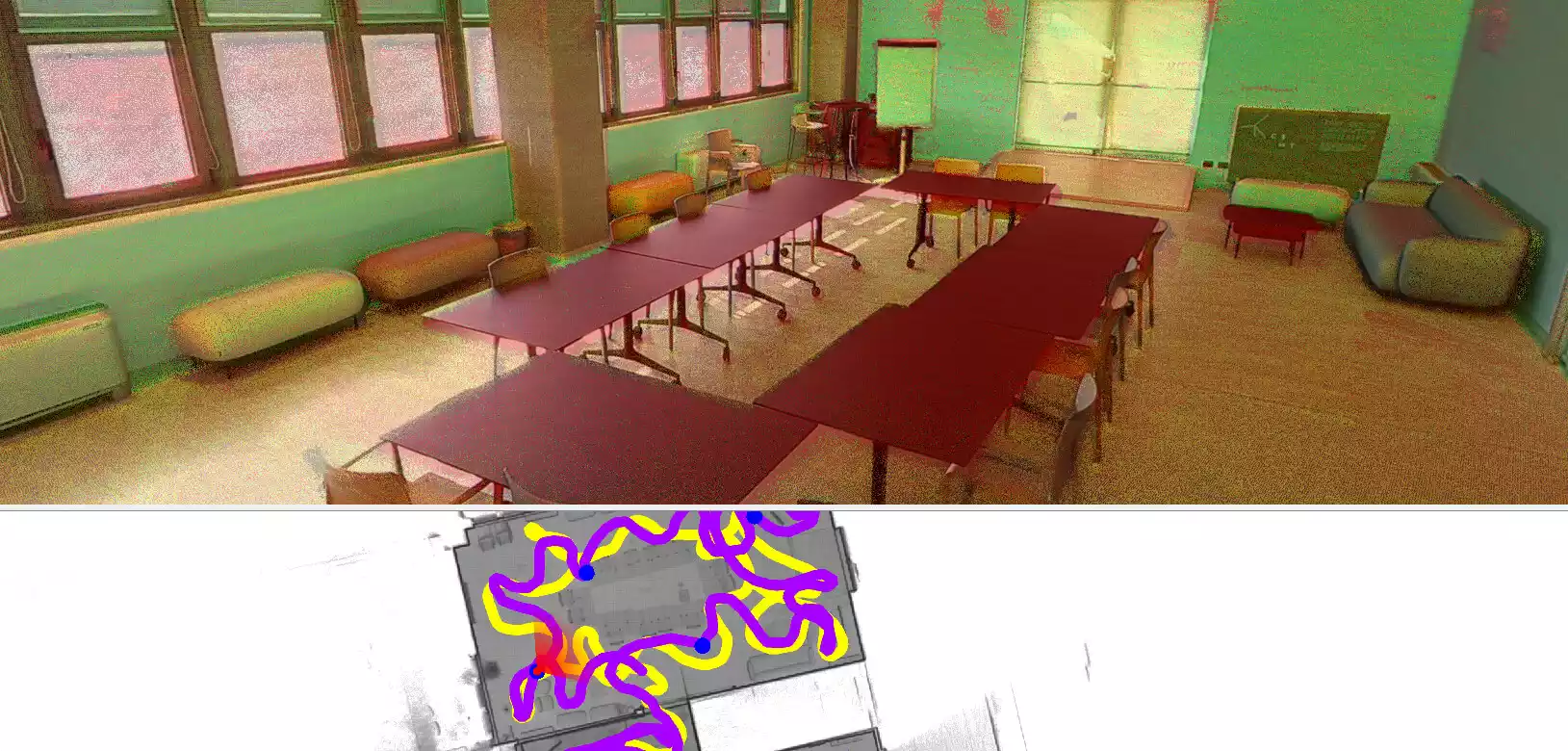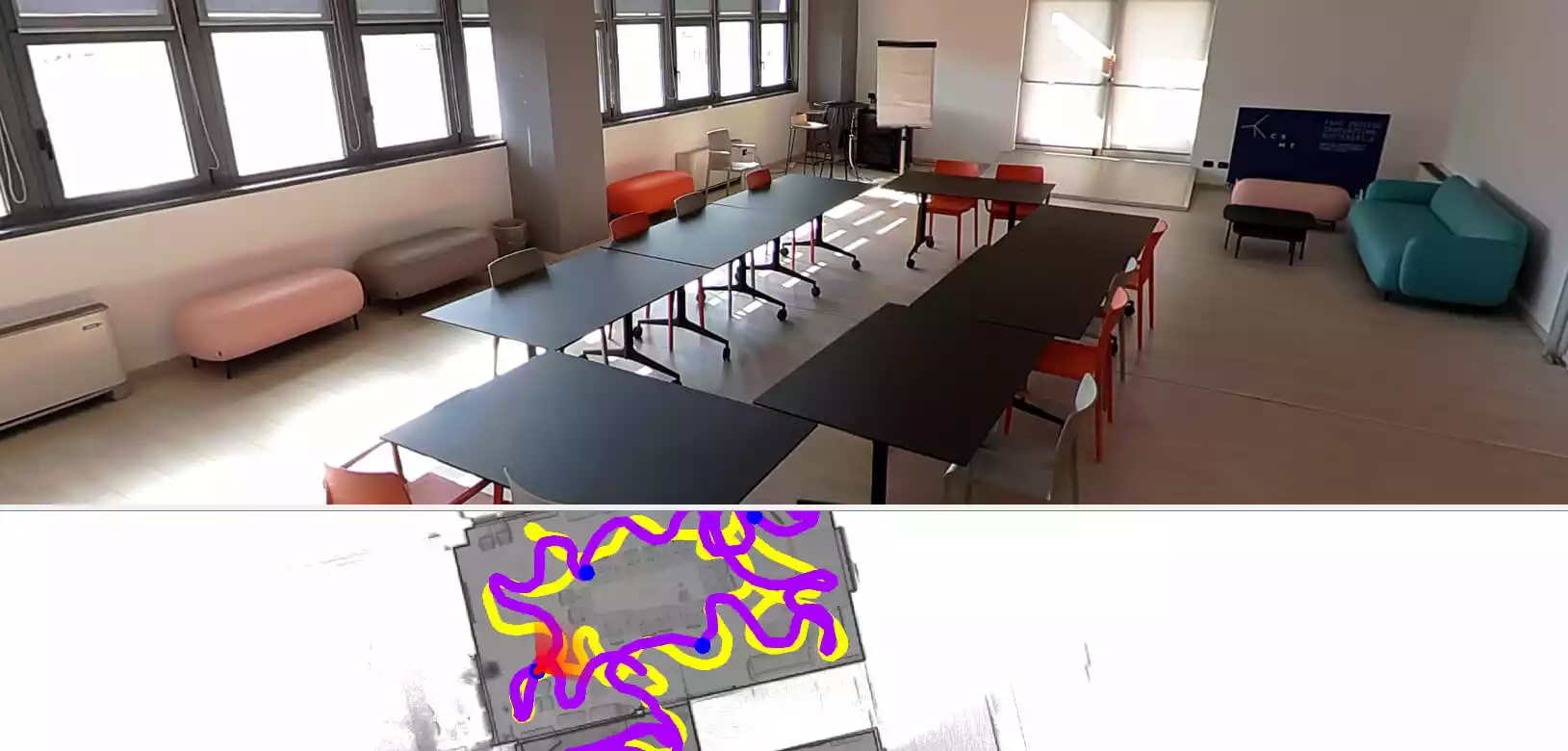 AUTOMATIC COLOR MAPPING
Creation of 3D models with RGB information by automatically overlaying the photograph on the point cloud.
FILTER TO HIGHLIGHT GEOMETRY
A feature especially dedicated to HERON data from construction sites and building surveys to improve CAD rendering and Scan-to-BIM processes. In the case of a large dataset, the filter can work with out-of-core processing.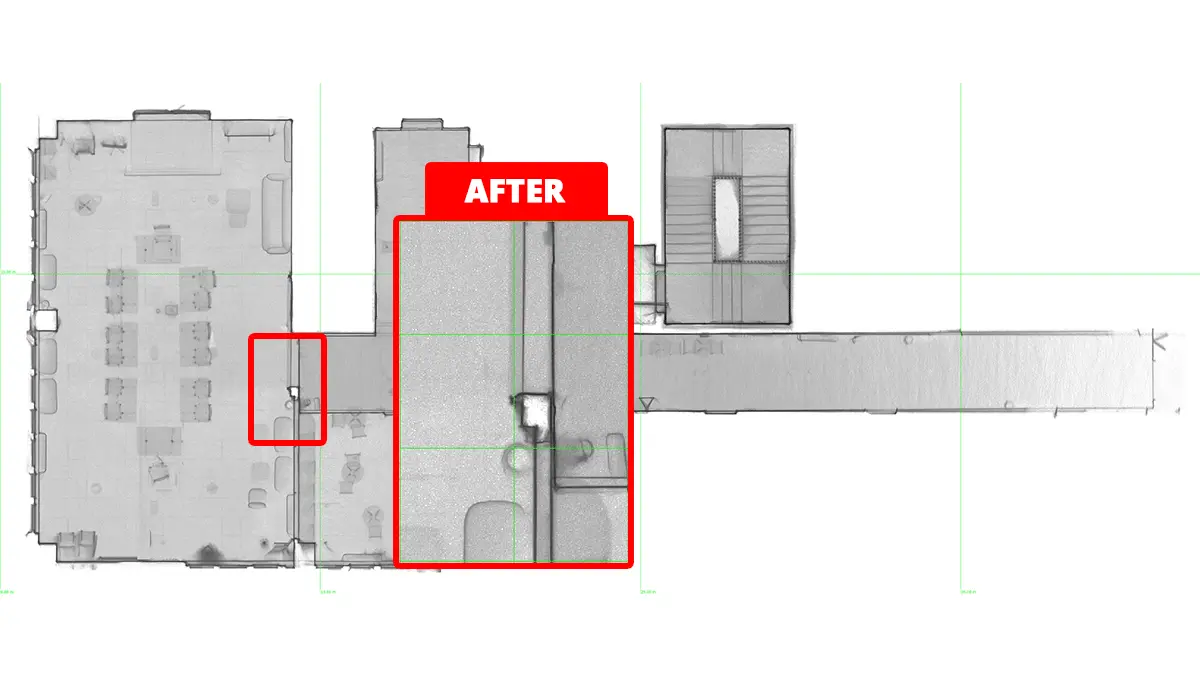 DATA SHARING AND EASY MEASUREMENTS
FREE TOOL
Share x-Ray maps of your projects using the free GoBlueprint tool and allow your clients to visualize and take measurements in a very intuitive way. GoBlueprint works on any computer or tablet running Windows.
MULTI-SENSOR DATA INTEGRATION
Merge point cloud models from various LiDAR sensors and different formats. Static scans, LAS files, point clouds from UAVs, and BIM models are managed in the same software!
HERON becomes a quick and easy way to connect point cloud models located inside and outside the mapped site.
DIRECT EXPORT TO RECAP AND MORE
Export HERON point cloud models to third-party software for "scan-to-BIM" and progress monitoring applications or any other post-processing analysis.
Direct export of 3D data to ReCap, E57, LAS and major point cloud formats.
Easy export to third-party software (e.g. 3DM Feature Extraction, EdgeWise, Micromine, Scene, Verity).
DIGITAL TWIN AND CLOUD SHARING
A simple command allows you to export and share HERON surveys to cloud platforms such as Cintoo Cloud, FARO WebShare, and OrbitGT. With this easy procedure, you create Digital Twin projects of your surveys in one click and allow all project stakeholders to access the surveyed location without having to physically travel to the site.
REAL-TIME CHANGE DETECTION
Transform HERON in a monitoring device.
Use a point cloud or BIM model as a reference map.
Let HERON self-locate relative to the reference.
Get a survey aligned with the reference map.
Detect changes that have occurred over time.
Automatically get the change map for further modification.
SOFTWARE EQUIPMENT
in detail

Post-processing of SLAM data
Find out more
Software to extract 3D point cloud models from HERON acquisitions. It contains patented SLAM algorithms; time bar to organise your processing as desired; filter of moving objects, and more. Advanced mode for the total control of SLAM algorithms' parameters. Use of control points and control scans as constraints.
Advanced control points processing
Find out more
Take advantage of HERON algorithms to anchor 3D models to constraints so as to increase the overall accuracy. These constraints can be GNSS coordinates, ground points, physical/natural points but also georeferenced scans (TLS, UAV, Mobile). With this approach, you can also geo-reference the model and keep an eye on drift effects that may occur, for example, in long straight paths.

Advanced LiDAR data processing
Find out more
Professional software for advanced point
cloud management and editing. Data
processing from HERON or from terrestrial/
mobile/UAV laser sensors. Powerful automatic
and target-less scans' alignment. Data export
to ReCap, E57 and various standard formats.
Full compatibility with various third-party
software and cloud platforms. RGB camera
calibration, HERON survey navigation, mesh
and DTM generation, volume computation,
sections and profiles. More details
Reconstructor HERON add-on
Set of commands for HERON data
Find out more
Add commands to Reconstructor to manage and optimize HERON survey results. Adjust the trajectory, navigate and retrace the survey with 360° spherical views, obtain fully measurable technical views that can be shared with the end client, produce video or georeference the data by constraining it to static scans, and more. More details

Sharing of 2D easy-measure maps
Find out more
An intuitive viewer of scaled X-ray images, designed to easily extract measures (volumes, distances, areas) even by users not skilled in 3D. Compatible with any Windows-based tablet/PC. Free tool designed to be provided to end customers for convenient output management. More details
Real-time change detection
Find out more
Highlights differences from a pre-existing reference model (BIM or point cloud). Auto-locates HERON in the reference model. Get a new acquisition in the reference system of the reference model used and constrained to it. Get a classified point cloud in which changed and unmodified areas are marked. Obtain the change map automatically for further modification.
Reconstructor MINING add-on
Functions for territorial data analysis and output
Find out more
Set of additional commands for Reconstructor. Advanced calculation of volume/cut&fill volume, topographic mesh, extraction of sections from plans and much more. This package of functions is particularly suitable for those working on spatial data, quarries or open pit mines to optimize the development of a site and make work progress decisions based on detailed information. More details
Reconstructor COLOR add-on
Functions for 3D model coloring
Find out more
Set of additional commands for Reconstructor. Creation of meshes with photographic textures, the use of panoramic images, the management of the projectors and much more. This set of functions is particularly suitable for those who want to work with high-resolution images to integrate with their 3D models and obtain high-level results such as technical tables with photographic details. More details
HERON data for SLAM development projects
Find out more
Add this tool to your HERON system to import raw data into the ROS language, the most used for robotics and research activities. Designed for research institutes, universities and companies with R&D departments that wish to customize, develop and test their own SLAM approach starting from synchronized and calibrated sensors. More details

Digital Twin projects and cloud sharing
Find out more
A cloud-based Reality Data management and collaboration platform. By transforming large point cloud data into 3D meshes, the data is now shareable, collaborative, and distributable with clients, contractors and your own teams. More details

Automatic switching from 3D scans/point clouds to BIM models
Find out more
Designed to automatically extract features from point clouds. EdgeWise is an as-built modelling platform that uses advanced algorithms to automate scan-to-BIM workflows. It models as-built pipes, structural elements, ducts, walls, conduits, and cable trays from mobile and terrestrial point clouds. More details

"As-built/As-designed" verification
Find out more
Verity compares laser scans of as-built conditions against any 3D Navisworks model to generate accurate quality assessments. Sophisticated computer vision algorithms compare the point cloud to the model, enabling Verity to measure the distance between where an element was meant to go and where it was built. The result is a much more accurate, detailed, and complete variance analysis. More details
E. info@gexcel.it | P. (+39) 030 6595001
GEXCEL srl
Via Branze 45
I-25123 Brescia (BS) . Italy